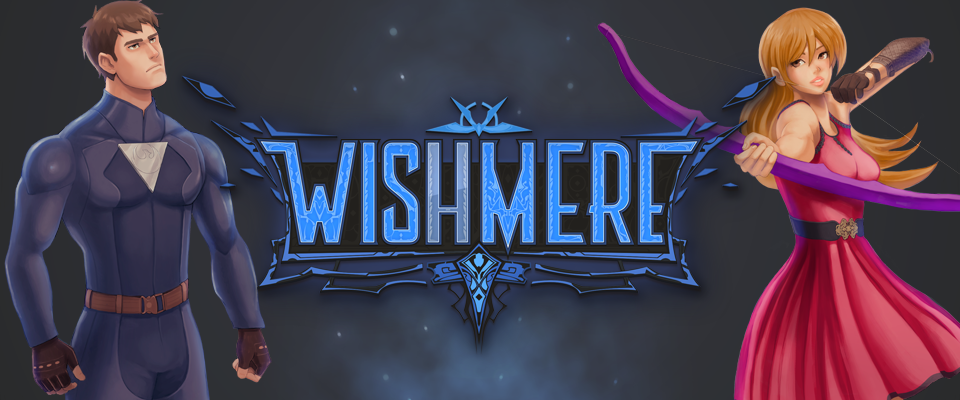 Wishmere
Wishmere is a brawler-fighting game with time bending mechanics. Fight in a world where the 'Wishmere', an ancient order of heroes chosen by fate, are the last thing standing between the malevolent Doubt and his world conquest. Engage in combat with friends in local matches or conquer Doubt's strongholds in the Base of Darkness mode.

Want to get your feet wet and get your fists ready? Give the free Steam demo a try!
Features

7 characters: each with their own unique moveset, Supers and match-changing Edge maneuvers.
Fate: bend time and capitalize by unleashing your time manipulation powers.
Easy inputs: all attacks; normals, Abilities and Supers, can be performed by pressing a direction and a button.
Tutorial Mode: beginners can learn the the game's mechanics, step-by-step.
Base of Darkness: upgrade your character-specific Skills and destroy bases while avoiding the dreaded Fiend Rush: a horde of powered-up mindless enemies.
Play up to 4 players: play with or against friends with up to 4 players.
Play-it-your-way! Fight co-op with friends, slay enemies in the Base of Darkness Endless map battles against footsoldiers, upgrade and find the best Skill build for you, or just hit the training room!

Do take part and give your feedback, read up on the Official Wishmere Wiki and join in the discussion with other players on the Steam Forum.

This Steam Early Access game is currently not a finished game and may or may not change significantly over the course of development. To learn more about Steam Early Access, please visit http://store.steampowered.com/earlyaccessfaq/
Comments
Log in with your itch.io account to leave a comment.
Thanks a lot for the support and kind words, Jeff! We're looking into online support, but it's looking very tough for this type of game. We'll keep our eyes peeled for alternatives or ways to make it work.
I watched a bit of a playthru and it looked like it had an interesting story. I'm disappointed that neither this page or the Steam has any mention of it...
Good eye. We're definitely going to include it in future write-ups as the game develops. Thanks for stopping by!